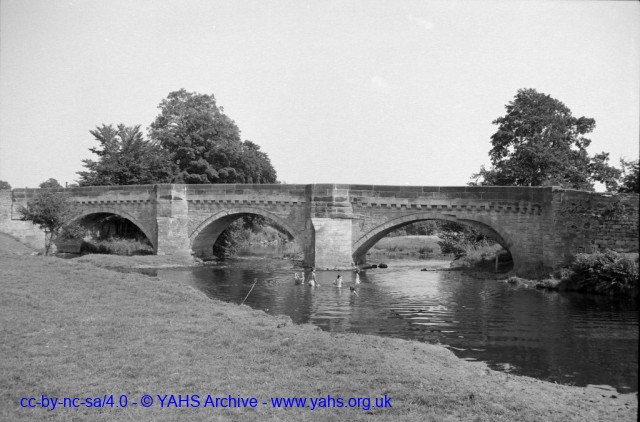 Description and History of Site:-
Three uneven arches. Southern most one widest with remains of an earlier arch Triangular cutwaters. Added parapet on pseudo-Norman corbels. (Hatcher 1975). Crosses the River Nidd.
Further Reading and References:-YAS - Hatcher Card Index. Research funded by the Yorkshire Arts Association, 1972.
Hatcher, J. The Industrial Architecture of Yorkshire. Phillimore, 1985.
Hampsthwaite village website: www.hampsthwaite.org.uk
Help us improve this entry
The compilers welcome corrections or additional information on all sites.
Any information provided will be verified before appearing on the web site.
Email comments
Key Words :- road bridge river niddViewing the Site :- Can be viewed from the public highwayAddress :- Church Lane, Hampsthwaite, Harrogate, North Yorkshire, HG3 2HB
Grid Ref :- SE 26074 59151
Co-ordinates :- Lat 54.027698 , Long -1.603462
Local Authority :- Harrogate Borough Council
Pre 1974 County :- Yorkshire - West Riding
Site Status :- Listed - Grade II
Historic England List No - 1150410,
Site Condition :- Operational site, in use for original purpose
Contributor :- Daniel Balmforth - 16 May 2015

Copyright :- cc-by-nc-sa&nbsp4.0 © Daniel Balmforth